T
he Center for Animal Law Studies, the Lewis & Clark Student Animal Legal Defense Fund chapter, and the Animal Legal Defense Fund are the co-presenters of this conference. Thank you to everyone who makes this event possible!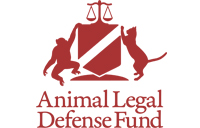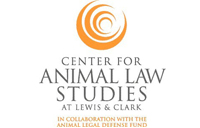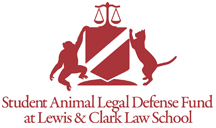 Why sponsor The Animal Law Conference?
Show your support for attorneys, law students, professors, and activists from around the world as they share ideas about advancing the interests of animals through the legal system.
Receive recognition in conference publicity, to hundreds of attendees at the event, and online.
At the silver level and above, receive tickets to the conference and reserved seating at the event.
A full list of sponsorship levels and benefits can be found below. For additional information, please contact Animal Legal Defense Fund's Development Officer, Katy Fendrich. To download a PDF version of the Sponsorship Sign-Up form, click here.
Platinum $10,000 (exclusive)
Gold
$5,000
Silver $2,500
Bronze $1,000
Podium Acknowledgement: Sponsor will receive verbal recognition at the Friday Welcome Reception.
X
VIP Seating at Banquet: Sponsor and guests will be receive VIP seating with key staff from ALDF and CALS at Saturday banquet dinner.
X
Public relations: Rotating banner ad in conference mobile app.
X
Access: Reserved seating at panel discussions for sponsor and guests.
X
X
Exhibit: Recognition in sign at registration tables.
X
(Logo)
X
Exhibit: Recognition on sign at reception tables.
X
(Logo)
X
Exhibit: Recognition on sign near podium.
X
(Logo)
X
X
Publicity: Sponsor will receive recognition on ALDF and CALS social media sites.
X

X
X
Acknowledgement: Sponsor will receive post-conference recognition in ALDF and CALS newsletter publications and/or blog posts.
X
(Logo)
X
X
X
Publicity: Space reserved on conference information table for sponsors' promotional material.
X
X
X
X
Podium Acknowledgement: Sponsor will receive verbal recognition during Saturday banquet dinner and closing remarks.
X
X
X
X
Access: Complimentary ticket(s) to conference.
X
(6 tickets)
X
(4 tickets)
X
(2 tickets)
X
(1 ticket)
Tax Deduction: Sponsorship of the event is tax-deductible to the full extent allowed by law. Please consult your tax advisor.
X
X
X
X