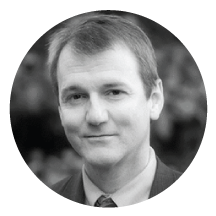 Scott Heiser heads up ALDF's Criminal Justice Program and provides a full spectrum of services to law enforcement and prosecutors who investigate and litigate animal cruelty cases. Scott and his team (with over 60 years of prosecution experience among them) regularly provide training to law enforcement officers and prosecutors across the country on how to achieve the best possible outcomes in animal cruelty investigations and prosecutions. Under Scott's leadership, ALDF has forged partnerships with both the Association of Prosecuting Attorneys (APA) and the National District Attorneys Association (NDAA) to provide the training necessary to ensure that prosecutors get the results these cases deserve.
A prosecutor for seventeen years, Scott served the last eight of those as the elected district attorney in Benton County, Oregon. He has been president of the Oregon District Attorneys Association (ODAA) and a member of the Governor's Drug and Violent Crime Advisory Committee. Scott also served on the board of directors for the Heartland Humane Society in Corvallis, Oregon. While Scott has prosecuted all types of criminal conduct including capital murder, he has always found animal cruelty cases among the most compelling cases he has handled. His passion for holding animal abusers accountable for their crimes led Scott to join ALDF.
Scott also lectures on issues related to animal cruelty prosecution and is a member of the adjunct faculty at Lewis & Clark Law School. In fact, Scott was the number-one conference attendee-rated speaker at the national Taking Action for Animals (TAFA) conference, and he consistently receives the highest praise for his engaging lectures. Scott received his JD from Northwestern School of Law of Lewis & Clark College and his undergraduate degree in economics from Oregon State University. Scott is a regular instructor at trainings hosted by the Oregon Department of Justice and has served on the board of directors of his local humane society animal shelter, helping to fund the construction of a new shelter. In 2011 Scott received the Diamond Collar Award from the Oregon Humane Society for his work on behalf of animals. In addition to spending time with their canine and feline family members, Scott and his wife enjoy sailing, whitewater kayaking, and scuba diving.