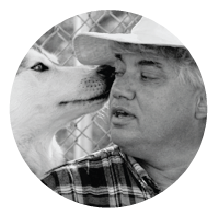 Russ Mead is the Shared Earth Foundation Visiting Professor at Lewis and Clark Law School. Russ is a popular lecturer nationwide who uses examples from his career as general counsel for animal rights organizations to illustrate animal welfare and other animal-related laws. Russ has served as general counsel for two of the best-known animal sanctuaries: Best Friends Animal Society and Farm Sanctuary; and served as Farm Sanctuary's interim Executive Director. Russ also has experience implementing and managing large scale animal rescues, including during hurricane Katrina. He has been involved in animal hoarding cases, each involving hundreds of animals.
Russ' legislative advocacy work includes grassroots organizing, lobbying, and media promotion. In private practice Russ has represented animal nonprofits in tax matters, intellectual property disputes, employment issues, fundraising compliance, and nonprofit formation.
On a personal level, Russ raises awareness of animals by attempting to capture their spirit in ink wash paintings. Russ holds a JD from St. Louis University School of Law, an MBA from Lindenwood College, a BS in Accounting from Arizona State University and earned a CPA license. Russ authored the textbooks Nonprofit Animal Law, Farm Animal Law, Grassroots Animal Legislation, Trial Advocacy in Animal Law, and Step by Step Legislative Drafting for Advocates.