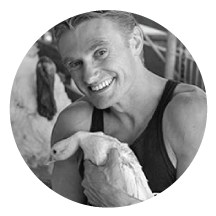 Robert grew up on a farm in Corvallis, OR where he adopted a vegan lifestyle in 1995 at age 15. Today he is a best-selling author of the book Vegan Bodybuilding & Fitness – The Complete Guide to Building Your Body on a Plant-Based Diet.
As a two-time natural bodybuilding champion, Robert has been considered one of VegNews Magazine's Most Influential Vegan Athletes. He tours all over North America, regularly giving talks about his story transforming from a skinny farm kid to champion vegan bodybuilder.
Currently Robert works for Vega, a line of vegan whole-food products, as a representative of the pro-vegan film Forks Over Knives and also works full-time running Vegan Bodybuilding & Fitness, which includes writing books, touring and maintaining the popular website.
Robert recently moved to Austin, TX and continues to spread the vegan way of life leading by example as an accomplished vegan athlete.