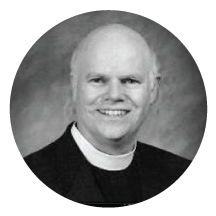 Since 1994 the Rev. Stephen V. Schneider has served as Rector of Grace Memorial Episcopal Church in Portland, Oregon.  From 1989 to 1994 he was Canon Residentiary at the Episcopal Cathedral of St. John the Baptist in Portland. In these two congregations he introduced an annual blessing of animals on St. Francis Sunday (the Sunday nearest October 4th).
Stephen was educated as an undergraduate at Wheaton College in Illinois where he was a philosophy major. He received a Master of Divinity degree from Princeton Theological Seminary and a Certificate in Anglican Studies from The General Theological Seminary in New York City.
Over the years he has served on numerous community boards including the City Club of Portland, Oregon Episcopal School, Pioneer Courthouse Square and St. Andrew Legal Clinic.  In 1998 he was President of the board of Ecumenical Ministries of Oregon.
Stephen has also served as Chair of the Committee for the Protection of Human Subjects for Kaiser Permanente, Northwest Region and the Advisory Board for the Providence Child Center (a center for medically fragile children).
In 2007 he was a speaker at the conference, Codes and Commands: Emerging Law and Religious Tradition in the Treatment of Animals, sponsored by the Oregon Law Institute of Lewis & Clark Law School.