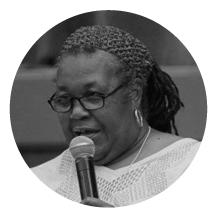 Naeema Muhammad
has been the community organizer for the North Carolina Environmental Justice Network since 2001, leading state-wide efforts and supporting grassroots efforts for environmental and social justice. Since 2014, Naeema has served as director/community organizer of the NCEJN.
Naeema has worked on two NIEHS funded grants. The first was Community Health and Environmental Reawakening (CHER) in which she served as a community organizer working with communities dealing with waste from industrial hog operations. In this position she worked with Dr. Steve Wing, UNC-CH School of Public Health and was supervised by Gary R. Grant, executive director of the Concerned Citizens of Tillery. She has co-authored publications with Dr. Wing regarding community-based participatory research (most recently in the New Solutions Health Journal).
Naeema also worked on the Community Health Effects of Industrial Hog Operations (CHEIHO) project in which she has served as a community organizer, environmental justice educator, interviewer, and participant in qualitative data analysis. Ms. Muhammad's past primary responsibilities on the proposed project was to work in collaboration with Amy Lowman, CHEIHO project manager, in all aspects of data collection. She made preliminary visits to communities to educate people about the potential health risks of environmental pollutants; discussed research activities and ascertained the feasibility of community residents participating in the proposed study; coordinated community based organizations as liaison; participated in the recruitment and training of individual participants for the longitudinal health study; and worked with Dr. Hale to coordinate environmental monitoring and data collection in participating communities. She also worked with Dr. McDonald and Ms. Lowman to plan and interpret qualitative interviews.
Naeema is also a founding member of BWFJ (Black Workers for Justice) in North Carolina. It is a community-based organization that has addressed workers' rights issues at the workplace since 1981.
Naeema is the wife of Saladin Muhammad of 53 years in which they have 3 children, 10 grandchildren, and 8 great grandchildren, and believes that the work they are doing will lead to a better life for the lives of the children and their families.