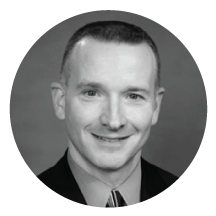 Mark Eichelman recently retired as a Lieutenant Colonel from the U.S. Army Judge Advocate General's (JAG) Corps. His Army service spanned nearly three decades. After an initial stint as an armor officer, during which he fought in the First Gulf War, Mark left active duty and attended law school. Upon graduation, he returned to active duty in the Army JAG Corps. His varied legal assignments took him around the country and world and included: Claims Attorney; Chief, Operational and International Law Division; Prosecutor; and Chief, Legal Assistance Division (Fort Lewis, Washington); Officer in Charge, Mannheim Law Center (Mannheim, Germany); Deputy Staff Judge Advocate (Fort Eustis, Virginia); Chief of the Army Environmental Law Division's Resource Sustainment and Restoration Branch (Arlington, Virginia); Command Counsel, Army Environmental Command (Fort Sam Houston, Texas); Chief, Administrative Law Division, U.S. Forces Afghanistan (Kabul, Afghanistan); and Chief of the Army Claims Service's Tort Claims Division (Fort Meade, Maryland).
Mark holds a B.S. from the United States Military Academy at West Point, a J.D. with honors from the University of Tulsa College of Law, an LL.M. in Military Law from the Judge Advocate General's Legal Center and School, and an LL.M. in Environmental and Natural Resources Law from Lewis & Clark Law School.
Mark's passion for animals and their protection flourished at Lewis & Clark thanks to his association with Professors Pamela Frasch and Kathy Hessler and their Animal Law course. While at Lewis & Clark, Mark spent a semester working on municipal animal code improvements for the Animal Legal Defense Fund (ALDF). He also authored "Ringling Brothers On Trial: Circus Elephants And The Endangered Species Act," which was published in Animal Law in 2009. This law review article led to Mark being interviewed for a podcast by Professor Henry Mark Holzer, Chairman of the International Society for Animal Rights (ISAR).
Mark now resides in Portland, Oregon where he is the Deputy District Counsel for the Portland District of the U.S. Army Corps of Engineers.