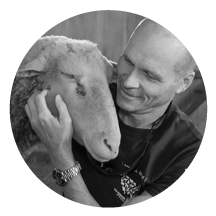 Jonathan Balcombe is a biologist, author, and a life-long animal advocate. He has a PhD in ethology from the University of Tennessee, where he studied communication in bats. He has published over 50 journal articles and book chapters ranging from turtle nesting behavior to the ethics of animal dissection. His 2006 book Pleasurable Kingdom is the first in-depth examination of animals' capacity to enjoy life. His subsequent books Second Nature, and The Exultant Ark also present animals in a new light and presage a revolution in the human-animal relationship. His latest book, the New York Times bestseller What A Fish Knows, explores the private lives of the planet's most misunderstood and maligned vertebrates.
Balcombe is Director for Animal Sentience with The Humane Society Institute for Science and Policy, based in Washington, DC. He is also a founding editor of Animal Sentience, the first scholarly journal of animal feeling. A popular commentator, he has appeared on Fresh Air with Terry Gross, the BBC, the National Geographic Channel, and in several documentaries, and has contributed features and opinions to The New York Times, The Washington Post, The Wall Street Journal, Nature, and other publications.
He currently lives in Florida, where in his spare time he enjoys biking, baking, birding, Bach, and trying to understand the lizards on his patio.