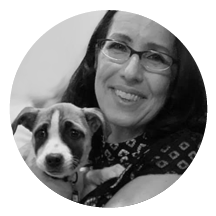 Jessica Rubin is the Director of UConn Law School's Animal Law Clinic. She teaches Animal Law and directs UConn's Legal Practice Program. Professor Rubin was instrumental in creating Desmond's Law, which allows courts to appoint advocates – law students under supervision – in animal cruelty cases. She supervises students and appears in court to advocate for justice in cases of animal cruelty.
In collaboration with UConn's Business School, Professor Rubin created and runs the annual UConn Business Law Negotiation Competition in which law students work with business students to negotiate deals. She also teaches international students. Rubin traveled to Bilgi University in Istanbul, where she taught for the Open Society Foundation, and taught in Seoul, South Korea. In both locations, she supplemented her teaching activities with local stray animal rescue and relocation efforts.
Rubin is a graduate of Cornell University and Cornell Law School. She was awarded a University Provost's Award for Public Engagement in 2017, an Animal Legal Defense Fund Defender of Animals Award in 2018, the Connecticut Humane Society's Humanitarian Award in 2019, an International Society of Animal Rights SEEDS Award in 2020 and the UConn Law School Perry Zirkel Distinguished Teaching Award in 2020.