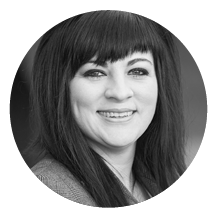 Emily Lewis is the Senior Staff Attorney for the Criminal Justice Program at the Animal Legal Defense Fund. In that role she oversees and triages case response and works directly with law enforcement agencies, prosecutors and rescue groups providing direction and support for all aspects of criminal animal cruelty investigation and prosecution. She supports front-line responders by training and consulting on search warrant drafting, evidence collection and scene processing best practices.
Emily joined the Animal Legal Defense Fund after serving as staff attorney for the Oregon Humane Society Humane Law Enforcement Division, where she directly participated in hundreds of animal cruelty investigations, including the raid of a massive animal-fighting compound, cases involving large-scale neglect of livestock, and all manner of puppy mill and animal hoarder scenarios. It is this firsthand experience that has given her such a deep understanding of animal cruelty casework and prosecution.
Emily holds a JD and Master of Studies in Environmental Law (MSEL) from Vermont Law School, where she graduated with honors.