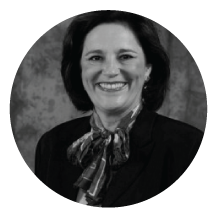 Dianne McGill is Executive Director and Chief Executive Officer of the Banfield Charitable Trust. Since joining Banfield Charitable Trust in December 2006, Dianne has helped the charity grow through numerous initiatives, including the launch of the Pet Peace of Mind program in 2009, the launch of Pet Food Distribution grants for Meals on Wheels programs in 2007, and the launch of the FutureVet classroom education grant program in 2007.
Prior to joining Banfield Charitable Trust, Dianne served as a director for an educational non-profit. Some of Dianne's other leadership roles include Director of Marketing for the Associated Press, Regional Vice President for The Newspaper Network, and other senior marketing positions for various organizations.
She was born and raised in Spokane, Washington. Dianne holds a BS in Business Management. She is actively involved in a volunteer capacity for numerous non-profit organizations. In her spare time, Dianne enjoys gardening, cooking, astronomy, camping, and collecting pieces from the Art Deco era. She also enjoys spending time with her husband and family, including two stubborn but very loveable English Bulldogs, Belle and Noel.