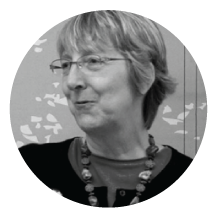 Carol J. Adams is a feminist-vegan advocate, activist, and independent scholar whose written work explores the cultural construction of intersectional oppressions. Through an analysis of attitudes, literary works, philosophical positions, and contemporary images culled from various media and advertising sources, Adams's books The Sexual Politics of Meat: A Feminist-Vegetarian Critical Theory (1990), Neither Man Nor Beast: Feminism and the Defense of Animals (1994), and The Pornography of Meat (2003) theorize interconnected ways in which women and animals are subjugated and sexualized. She is also the co-editor of Animals and Women (Duke 1995) and The Feminist Care Tradition in Animal Ethics (Columbia 2007) (both with Josephine Donovan), and has written extensively on veganism. Her books Living Among Meat Eaters and How to Eat Like A Vegetarian even if You Don't Want to Become One (co-authored with Patti Breitman) offer ways to embody feminist-vegan theory. She has been a keynote speaker at academic conferences in the United States, Canada, Great Britain, Sweden, and Australia. She has also been an activist against domestic violence, racism, and homelessness, and for reproductive justice and fair housing practices.
In 1989, just as she was completing The Sexual Politics of Meat, she received a Durfee Award from the Durfee Foundation for "enhancing the dignity of others through the use of law or legal institutions," in specific for using "creative legal means to ensure construction of over 90 new housing units in a troubled, racially mixed area, securing a judicial opinion defining discrimination against battered women in federally subsidized housing, and establishing the first cooperatively owned mobile home park in New York State."
Carol has published close to 100 articles in journals, books, and magazines on the issues of veganism, animal advocacy, domestic violence and sexual abuse. In addition, Carol has presented the dynamic and always-changing Sexual Politics of Meat Slide Show from Oregon to Maine, from experimental schools to universities with slaughterhouses on their campus, from Yale Law School to CalTech, from Trinity College in Dublin to Toronto's annual vegetarian food fair.