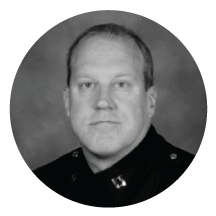 Captain II Sargent was born in New York City and was raised in Westchester County, New York. He moved to Los Angeles in 1983.
Captain Sargent has held sworn positions with several law enforcement agencies, beginning his career in 1979 as a provisional police officer with the Westchester County Police Department in New York. Since that time, Captain Sargent has been a police officer with the Hallandale Beach Police Department in Florida, a Deputy Sheriff with the Los Angeles County Sheriff's Department and a police officer with the Santa Monica Police Department. Captain Sargent then spent six and a half years with the Rialto Police Department where he was a police officer, K-9 handler and a patrol sergeant.
Captain Sargent joined the Los Angeles Police Department in 1993, and has been assigned to Northeast Area and Foothill Area as a police officer, and to Southwest and Hollywood Areas as a field sergeant. He was an investigator with the Department's Gun Detail and Employee Relations Group and was assigned as a sergeant – investigator with Internal Affairs Group before promoting to Lieutenant in 1999.
As a lieutenant, Captain Sargent was assigned to West Los Angeles Area patrol and administration, and to Risk Management Group as an Officer in Charge. Captain Sargent spent approximately two and a half years as an adjutant to the Commanding Officer of the Consent Decree Bureau before promoting to Captain.
Captain Sargent holds an Associate's Degree in Law Enforcement from Dean College in Boston, a Bachelor's Degree in Business and Management from the University of Redlands and a Master's Degree in Organizational Management from Azusa Pacific University. In 2002, Captain Sargent completed his Juris Doctorate degree at Southwestern University School of Law, and is an active attorney and member of the California State Bar.
Captain Sargent is a member of several professional and fraternal organizations including the Latin American Law Enforcement Association, the American Society for Law Enforcement Training, the International Police Association, the Law Enforcement Association of Asian Pacifics, the Los Angeles County Bar Association, and the Lawyers' Club of Los Angeles County.