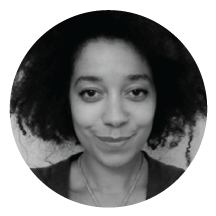 Aph Ko is a blogger, performer, vegan, and independent digital media producer. She has a B.A. in Women's and Gender Studies, and an M.A. in Communication/Media Studies. She is known for writing the first article that listed 100 Black Vegans. Aph was named one of the top 10 indie creatives of 2014 by IndieWire, and she continues to push cultural boundaries through her work. Aph is committed to smart humor that merges digital media and social justice.
She was awarded the 2015 Anti-Racist Change Maker of the Year Award from the Sistah Vegan Project and the Pollination Project. She is currently the Associate Producer for the documentary film Always in Season by Jacqueline Olive and also serves on the editorial board for the F Bomb.
Aph is the founder of Aphro-ism, a digital space devoted to black vegan feminist critical analysis, as well as Black Vegans Rock which is a new digital project devoted to spotlighting individual Black vegans every day. Aphro-ism and Black Vegans Rock were recently nominated for the 2016 Bloggy Awards from VegNews Magazine.