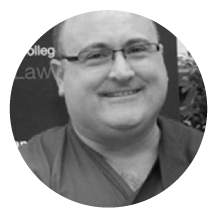 Dr. Alex Bruce is an ordained Buddhist Monk in the Tibetan Buddhist Tradition and an Associate Professor with the
ANU College of Law
where he has taught since 1999. He is a Senior Fellow of the Higher Education Academy and a Fellow of the Oxford Centre for Animal Ethics.
Alex worked with the Australian Competition and Consumer Commission from 1992 until 2004 where he was a Senior Lawyer. In 2003; Alex was attached to the United Nations Conference on Trade and Development where he assisted the UN in capacity building Competition and Consumer Polices in several African countries.
In 2004 Alex created and became a director of Liberation Prison Project (Aust) Ltd and; until 2009 Chaplain at Junee Prison where he facilitated classes in philosophy and meditation for groups of prisoners.
In 2007; Alex organised and moderated the "One World Many Paths to Peace" Inter-religious Symposium with His Holiness the Dalai Lama and hosted by the ANU College of Law. Alex was awarded the 2007 Vice Chancellor's Award for Community Outreach.
In 2009; HH Dalai Lama launched Alex's text "One World Many Paths to Peace" at the Parliament of the World's Religions. In 2010; Alex was awarded the Vice-Chancellor's Award for Outstanding Contribution to Student Learning.
His PhD (law) thesis explored the capacity for Competition and Consumer Law and Policy to benefit animals.
Alex is on the International Advisory Board of the Research Unit for the Study of Law; Society & Religion at the University of Adelaide and is a Director of Spiritual Care Australia Limited. Alex is a consultant editor with the Oxford Journal of Animal Ethics and a member of the editorial board of the Australian Animal Protection Law Journal.